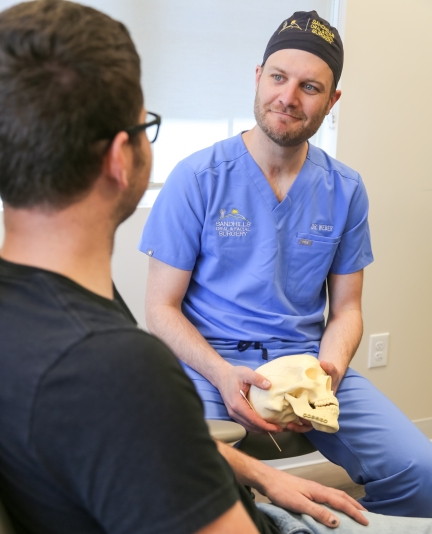 Dr. Matthew Weber, DDS, MD
Dr. Matthew Weber is a Nebraska native, born and raised in Ogallala. He completed his undergraduate education at the University of Nebraska-Lincoln, and went on to earn his DDS at the University of Nebraska's College of Dentistry. Following dental school, he attained his MD and completed a six-year residency in Oral and Maxillofacial surgery at the University of Texas Southwestern School of Medicine in Dallas, TX.

The UT Southwestern OMS program is widely considered to be one of the most elite residency training programs in the world for Oral & Maxillofacial Surgery. He received extensive training in head & neck trauma and reconstruction, orthognathic surgery, dental implants, facial cosmetic surgery, pathology and cleft lip & palate surgery. His residency also included training dedicated solely to anesthesia, including hospital-based general anesthesia, pediatric anesthesia and office-based sedation. 

After completing his residency program, Dr. Weber worked as an Oral & Maxillofacial surgeon for Facial and Oral Surgery Associates and ClearChoice Dental Implant Center in Fort Worth, TX where he gained expertise in treating single, multi and full mouth dental implant cases. Dr. Weber has since grown his passion for implantology, and has dedicated a significant amount of his surgical practice to complex and full-arch implant reconstruction cases.

Dr. Weber and his wife moved to Kearney, Nebraska in 2019 to open up Sandhills Oral & Facial Surgery. They returned to their home state of Nebraska to serve the families and community which helped raise and develop them personally and professionally. Dr. Weber shares a philosophy of exceptional patient care above all else. His skills, knowledge and compassion for each patient lead our team in providing safe, individualized care of the highest quality to each patient in a state-of-the-art environment.

Outside of work, Dr. Weber enjoys spending time with his wife, Carly, and three children. He loves being outdoors, preferably on a lake with friends and family. You will find him listening to music, watching his favorite sports teams, or better yet traveling to cheer them on! Dr. Weber loves the Huskers, the Lopers and everything about his Nebraska roots. One of his favorite things about his job is getting to know his patients and their families.