Are mono threads the best option for you? Let us help you find out! 
Mono Threads, made up of absorbable polydioxanone material, are delicate threads inserted into the skin's subdermal layer to promote collagen production. At Sandhills Oral & Facial Surgery, we offer PDO mono thread treatments to safely and effectively reduce the appearance of fine lines and skin folds for a more natural and youthful look. This mesh-like pattern of threads can enhance the skin's natural health and youthfulness without adding excessive volume. Mono threads are minimally invasive and are performed by our experienced nurse injector. 
For our beautiful client, (pictured below), we used mono threads around the neckline, resulting in a tighter, more defined appearance.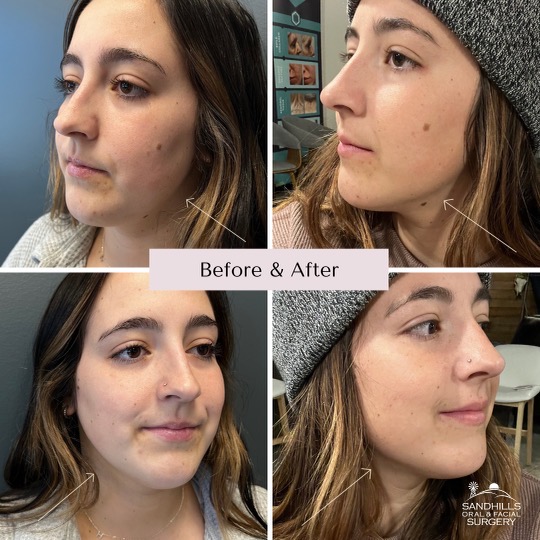 How Do PDO Mono Threads Work? Let's break it down.
As we age, our skin tends to lose collagen and elastic fibers responsible for the skin's structure and elasticity. This causes our skin to become saggy, and we see fine lines and wrinkles start to appear. PDO mono threads have emerged as an effective, safe and popular non-surgical solution to treat these issues.
What exactly are mono threads?
These threads are short, biodegradable filaments coated in a stimulatory material called polydioxanone (PDO). They are inserted under the skin to stimulate the production of collagen and elastin, which helps firm and smooth fine lines, wrinkles, and sagging skin of the face and neck. The threads act as the support structure for the face and, over time, are absorbed and broken down by the body, promoting new collagen production that tightens and supports the skin.
Who is a good candidate for mono threads? 
Mono threads are an excellent option for those who want to rejuvenate their skin without adding volume or bulk to the treatment area. They work well in conjunction with volumizing treatments such as dermal fillers. While there may be some immediate improvement in skin quality after treatment, the full results of mono threads are gradual and can be seen over 10-12 weeks, and last up to 6-12 months. Unlike thread lift procedures that pull the skin up, mono threads support the skin and help reduce the appearance of wrinkles and fine lines by promoting natural collagen production and ensure optimal tightening effects. 
If you're looking for a way to rejuvenate your skin without adding volume, mono threads may be the perfect solution. Areas that can be treated using mono threads include the eyes, cheeks, lips, forehead, brows, neck/jawline, nasolabial lines, marionette lines, décolletage, abdomen, arms, and knees. If you're interested in mono threads, it's best to consult a professional to determine if they're the right option. Call us today to visit with our nurse injector and PDO threads specialist to see if they are an option for you! 
Brook Johnson, RN, BSN