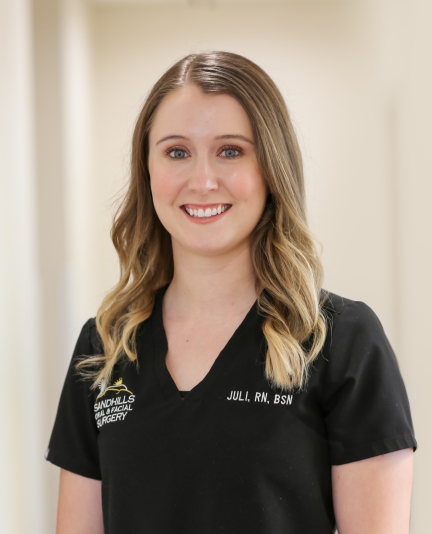 Julianna Wetovick
Juli is a Registered Nurse here at Sandhills Oral & Facial Surgery. She has been with us since we opened our doors in 2019! Juli is from Holdrege, Nebraska and now lives in Cozad with her husband and their labrador pup, Ghost .
You may recognize Juli as Julianna Burr from her days as a Lady Duster and UNK Loper. Juli is a 3-time state champ for track & field and still holds state records in Nebraska! She holds a legacy at University of Nebraska-Kearney (UNK) for breaking track records, winning track awards, and most notably her scholarly excellence in academics. After graduating from UNK, Juli went on to earn her Nursing degree from UNMC College of Nursing.
She began her nursing career at CHI Good Samaritan Hospital before joining our Sandhills Oral & Facial Surgery team. Juli's work ethic and accomplishments on the track and in the classroom hold true as a nurse. Juli is dedicated to her patients and colleagues. She is knowledgeable, skilled and diligent in the Operating Room. We are so grateful to have Juli on our team and in our community. She is known as our "fearless leader" who is "beautiful inside and out".