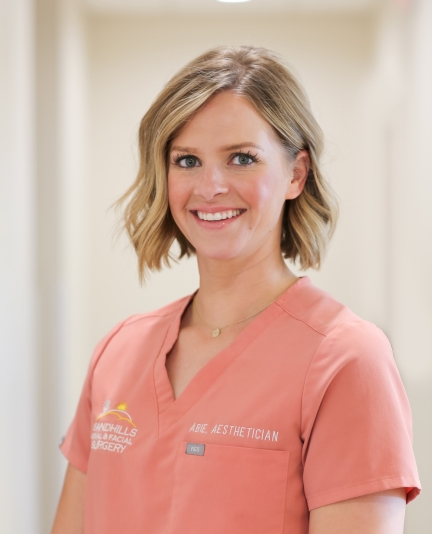 Abie Hawkins
Abie Hawkins brings over 9 years of Aesthetics experience to our practice. As our licensed, in-house aesthetician, Abie offers a variety of skin-care services and products for rejuvenation and well-being. Her services include a multitude of treatments such as custom facials and peels, waxing, dermaplaning, laser hair removal and assisting Dr. Weber with Botox and filler injections.
Abie is a native of Gothenburg, Nebraska and received her aesthetics training and education from Xenon International Academy in Omaha, Nebraska. Mrs. Hawkins is certified in micro needling, dermaplaning and chemical peels. She holds additional certifications for laser hair removal treatments under surgeon supervision, as well as assistance in Botox and filler injections.
Abie is very passionate about skincare and seeks to educate clients about proper skin care solutions, appropriate product selection, and customized regimens. She truly enjoys client interaction and expanding her education in all areas of aesthetics. Abie loves everything about her career and thrives in giving each client the absolute best experience that she can.
Abie enjoys spending her free time outside with her husband, Jordan and 2-year-old son, Liam. She has a knack for seeing the beauty in others, inside and out. Abie is caring, welcoming and nurturing. We are beyond excited to have Abie here with us at Sandhills Oral & Facial Surgery.